A new model in the construction spotlight series: Our new iF4R music
Construction floodlight meets Jukebox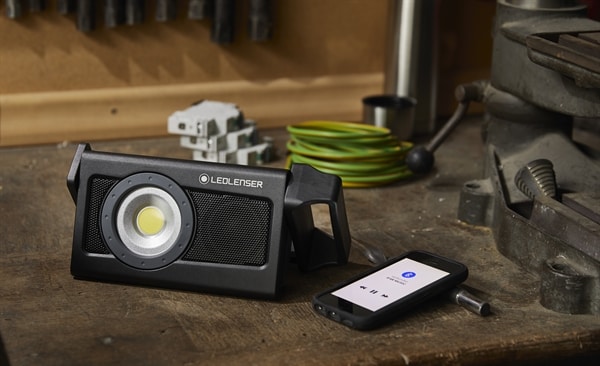 Powerful light source with Bluetooth speaker: The new iF4R music from Ledlenser brings brightness and music to every construction site
With five brightness levels, the compact iF4R construction floodlight from Ledlenser helps professionals and hobby craftsmen to light up their work by up to 2500 lumens. Now the Solingen-based company has expanded the multifunctional light source with a powerful Bluetooth loudspeaker. Any smartphone can thus be used as a player without the need for an additional app. The robust device therefore not only cuts a clever figure as a work light: the iF4R music also provides light and music for up to 15 hours in the garden or on a camping trip before the battery needs to be connected to the mains again. Charging is easy via a magnetic USB connection. Thanks to the integrated power bank, a mobile device can also be charged.
The iF4R music model comes with a wealth of lighting functions that make even tricky tasks easier. The special lamp can be placed exactly where it is needed using a magnet, flexible stand or handle. It provides the correct lighting for large areas as well as small ones: chip-on-board technology ensures even light distribution. If things get a little rough: the metal casing made of a noble aluminium alloy makes the housing robust, and even dust and splash water cannot harm the robust lamp, which is certified with IP classes IPX4 and IP5X. With its compact dimensions of 235 x 47 x 110 mm and a weight of 1,139 grams including battery, the lamp can be conveniently transported using the large handle. A transport lock protects against unintentional switching on. An efficient heat sink contributes to optimum performance and ensures a long service life.
Appropriate lighting in any case
The individual lighting functions can be controlled quickly and easily using a multifunctional switch. Five brightness levels range from glare-free light for precise work to moderate lighting and a power level of 2500 lumens. The battery power varies depending on the light intensity: at 200 lumens it takes 15 hours, at 1000 lumens three hours and at 2500 lumens about 1.5 hours before the battery needs to be recharged. After six hours of charging, the iF4R music is already ready for use again.
The music construction floodlight is charged with the innovative Magnetic Charge System. The Energy Management System offers full control over the power status at all times. The Charge Indicator shows the current charge level of the battery, the Battery Indicator shows the current energy level.
This is where the music is
Thanks to the built-in speaker, the iF4R music not only provides optimal lighting, but also music. Whether it's your favourite playlist, Internet radio or streaming service - thanks to the Bluetooth interface, the contemporary version of the classic construction site radio offers a wealth of possibilities, delivering also individual entertainment in the garage, in the hobby room or on the terrace.
Du vil også like dette
Den perfekte transportsboksen med integrert tilkobling til magnetisk ladesystem.

Passer til langrenn, randonne, topptur

  De nye utendørs Ledlenser lyktene – Nå enda smartere og med varmt lys! 'De nye utendørs Ledlense